The West Virginia Municipal League announced the 3rd annual "If I Were Mayor, I Would..." essay contest. The contest is open to all 7th grade students in West Virginia enrolled during the 2010-2011 school year. The program was designed as a means to provide more education on the positive roles of municipal government.
Three winners will be chosen from 7th grade students across West Virginia, to receive an award plaque and a $250 savings bond. Awards will be presented during the League's Mid Winter Conference, January 24, 2011, Charleston, WV.
As a reminder, the deadline for entries is November 15, 2010, with essays received at the WV Municipal League office no later than 5:00 p.m. that day. Winners will be notified in writing by mail.
Entry forms can be obtained by visiting the League's website: www.wvml.org.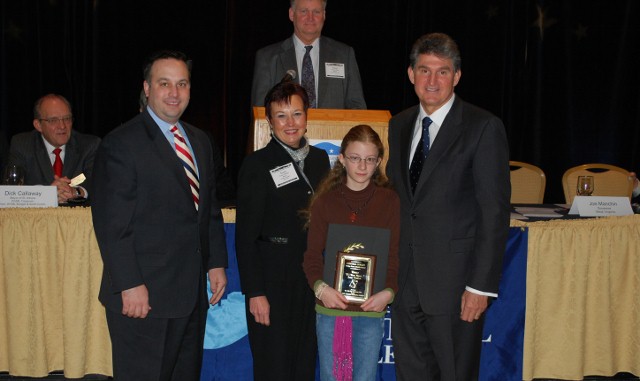 January 2010 Essay Contest Winner, Cynthia Corley, Bridge Street Middle School with Governor Joe Manchin, WVML President; Susan Webster, Mayor of Bath; Andy McKenzie, Mayor of Wheeling.
Please see attached forms for more information and details about each seminar.

The simple way to send state and local news releases to journalists and reporters in your community.
WV Municipal League Promotion | Members will receive 3 additional press releases - FREE. *Offer Ends: January 15th, 2011
The seminars listed on this page are presented by the Public Service Commission of West Virginia for the educational benefit of water and sewer utilities in West Virginia at no cost to the utility. The information presented is to help utility personnel, board members, and mayors have a better understanding of the PSC rules and regulations and the WV Code .